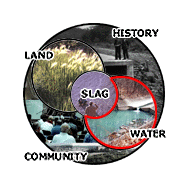 Water
"Combined sewer overflows (CSOs) contain not only storm water but also untreated human and industrial waste, toxic materials, and debris. This is a major water pollution concern for cities with combined sewer systems . . . [which] serve roughly 950 communities with about 40 million people. Most communities with CSOs are located in the Northeast and Great Lakes Regions, particularly in Pennsylvania"
Source: Environmental Protection Agency
The problem has been identified; state and local regulatory agencies have taken action, and politicians have subsequently ignored the issue time and time again.
If the most recent Department of Environmental Protection order is successful, the waters flowing through Frick Park may soon be protected from the raw sewage which leaks and spills from the sewer lines of Pittsburgh, Edgewood, Swissvale and Wilkinsburg. If the DEP order is successful, the Army Corp of Engineers will develop a $6 Million Dollar stream ecosystem restoration in the Nine Mile Run Valley, reaching up to Frick Park.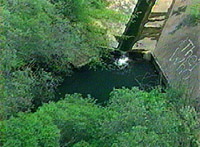 ---
Nine Mile Run Greenway Project
STUDIO for Creative Inquiry
Carnegie Mellon University