Changing Landscape Wall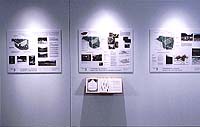 The boards presented on this wall are intended to promote a public dialogue on the form and function of stream side public space on the East End of Pittsburgh. Issues of ecological restoration, aesthetics and design are constrained and complicated by issues of infrastructure and utility. This ongoing dialogue, enabled through the city of Pittsburgh and funded by the Heinz Endowments has allowed the STUDIO for Creative Inquiry to develop a program which enables citizen choice.
The slag filled valley and the remaining natural soil hills are an important link between Frick Park (upper Nine Mile Run) and the Monongahela River corridor. Once reconnected, these land areas promote the trail connection of diverse human communities and provide an important biological link (a source of diversity and aesthetic benefit for park users!) allowing a variety of wildlife such as fish, reptiles aquatic mammals and water-birds to flow to and through the expanded park area.
View the OPTIONS BOARDS
View the FINAL BOARDS
Board content developed by Nine Mile Run team with:
Ken Tamminga, landscape architect, Assistant Professor of Landscape Architecture, Pennsylvania State University; urban greenways and ecological public design.
Andy Cole, Research Associate Cooperative Wetlands Center; comparison of natural and constructed wetlands, cumulative effects of development on wetlands.
Peggy Johnson, geomorphologist, Associate Professor of Civil and Environmental Engineering, Pennsylvania State University; water resources, including river hydraulics and watershed modeling.
David Dzomback, PhD, Associate Professor, Department of Civil and Environmental Engineering, Carnegie Mellon University; water and soil chemistry, wastewater treatment.
Sue Thompson, Botanist, Assistant Curator, Carnegie Museum of Natural history; plant insect interactions, documentation of plant biodiversity.
The graphic design and final content of the boards was developed by Suzy Meyer of Image Earth.
---
Nine Mile Run Greenway Project
STUDIO for Creative Inquiry
Carnegie Mellon University